Science Communication: Online and media writing
Online science writing course from the Science Communication Unit
Registration for the 2017 course is now open.
This course will equip participants with the skills they need to write about science and communicate clearly with non-scientists. From identifying a story in a piece of research to shaping the material into engaging text, this course will offer a comprehensive insight into science writing. The course should appeal to current and future science communicators and science writers who wish to hone their skills, as well as scientists who wish to convey their research to non-specialists. The skills taught here will be applicable to all forms of popular science writing, but there is a particular emphasis on online writing.
The course draws on the expertise of the team that delivers UWE Bristol's popular and practical Science Communication postgraduate programmes.
The course is taught over a 10 week period. This includes eight weeks of taught material and two private study weeks to enable those working as well as studying to manage their workload.
Registration closes Tuesday 14 March 2017.
Course dates
The course will run from Monday 24 April 2017 until Sunday 2 July 2017.
View further information about how to apply including course fees, the application process and completing a registration form.
Topics for the course
Introduction to science writing and guiding principles.
Spotting a good story.
Story structure.
Making your science writing clear and engaging.
Writing for different audiences.
Writing about statistics and risk.
Getting your writing noticed online.
Effective use of social media.
Writing an effective press release.
Tips on writing about different fields of science.
Requirements
The course is aimed at those who are new to science writing and science communication in general as well as those with some experience. Participants will need to be comfortable with reading, listening and writing in English.
For more information see our frequently asked questions and tutor biographies.
If you would like to be kept informed of future opportunities, or have any queries regarding this course, please email science.communication@uwe.ac.uk.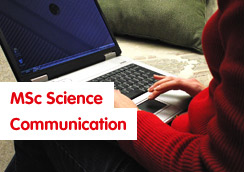 Related documents