Business
Transforming your business is our business
From developing the very best industry-ready talent, and enabling your team to achieve more, to working with you to innovate and grow, we put business first.
Gain access to expertise and support with the potential to transform your business.
Customised executive development courses and leadership education services.
Discover the largest quality training provider with the broadest course offering in the region.
Make a real difference while making connections and gaining exposure for your business.
Meet and attract industry-ready students, interns and graduates.
A flexible space with quality facilities and practical support to match.
Take a look at the ways in which the University and the public interact.
Working with Business
Our three-year collaboration with HP has led to new facilities, programmes of study and more.
Grants of £25,000 to £150,000 for research and development in the South West.
A unique opportunity to hear the challenges and decisions made at the highest level of strategic leadership.
Business news
See all business news.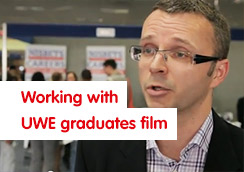 The West of England University Enterprise Zone will provide a space for start-ups and established businesses to grow.