MA Printmaking alum Zoë, who graduated in 2018, applied for a Student Experience Grant from the UWE Bristol Fund to build her light-up mural 'Electric Moon'.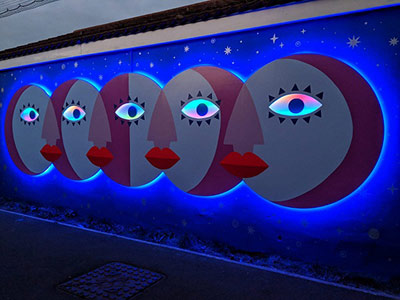 When artist, Zoë Power, was a student at UWE Bristol, she often travelled to and from the University in total darkness. Festival Way - a main commuting route for cyclists and pedestrians to the city campus - was completely unlit which made it a daunting route for many, particularly in the dark winter months.
After seeing cyclists and pedestrians collide, as well as feeling uncomfortable herself about her journey to Bower Ashton, Zoë approached the University with an idea - to light up the path with an art installation that would make students and staff feel safer and more comfortable on their daily commute. 
"I wanted to create a mural that also had a functional use" said Zoë, "it's as much a practical as well as a creative response to the environment, and with an abstract and playful design, the artwork feels warm and friendly.
"Without the support of the UWE Bristol Fund I wouldn't have been able to make the daily commute much safer and inspiring for so many people. Thank you!"
Made with waterproof LED tape, the glow of the moons flood the entire path and uses less power than conventional street lighting, meaning it has a smaller impact on the environment.
The 3D wooden eyes, slightly set back from the faces of the moons, give the illusion of movement, following the viewer as they move down the path. "Hopefully people will find that fun and not too scary!" said Zoë .
The response from local residents, joggers, cyclists, pedestrians and dog-walkers has so far been overwhelmingly positive.
Watch how Electric Moon was created with thanks to funding from the Student Experience Grant.