Zak - Environmental Resource Management
Studied: BSc(Hons) Environmental Resource Management.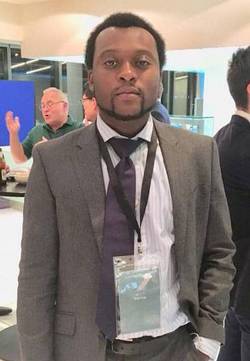 Alum runs award winning energy and environmental management company
Alum and winner of the KPMG Black Entrepreneurs' Award of the Year 2018, Zak Ajia runs GreenPad Enterprise, a multi award-winning energy and environmental management company. GreenPad provides green products and services to businesses to help improve their energy and environmental performance.
UWE Bristol was instrumental in the founding of GreenPad Enterprise. It started as a one-off education for sustainable development project, funded by UWE Bristol.
Going from strength to strength, GreenPad was later recognised with several awards such as Shell LiveWIRE Smarter Future and UnLtd Awards as well as a Finalist in the Business Green Technology 2016 Awards.
UWE Bristol links to industry opens doors
As a student, Zak was awarded UWE Bristol's Green Internship of the Year 2012. This was in recognition of his internship working on reducing greenhouse gas for a European Union (EU) initiative.
Zak talks about the experience and the doors it has opened:
"I worked with Ecofys as an Energy Analyst. My work involved researching and identifying energy efficient innovations which can be used for greenhouse gas abatement in the chemical sector of the EU. The internship gave me the confidence to use my own initiative."
Since graduating Zak worked for private and public sector organisations in a wide range of sustainability issues such as carbon, waste and energy management before venturing out as an entrepreneur with GreenPad Enterprise.
Zak recommends other students make use of the knowledge, experience and support available at UWE Bristol to help them contribute positively to issues faced by businesses, communities and the wider society.