Tom - Business and Human Resource Management
HR placement expands horizons
In his second year, Tom secured his placement as the sole UK HR Assistant for global pipeline equipment business T.D.Williamson.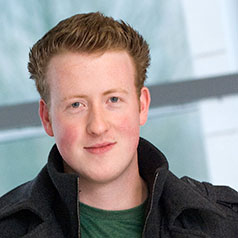 "I couldn't have asked for better support securing a placement. The placements team helped in many different ways - checking CVs, practice interviews, tips for assessment days, sending e-mails of new placements, or simply extracting the positives from an unsuccessful interview."
"The placement kicked off with a meeting with my manager in Belgium. She gave me objectives and I led from them. I was given training and there was ongoing support. It was a great opportunity for me to liaise with people across the business while working on my own initiative."
"It was interesting working at a global company, which has around 70 permanent employees at the Swindon entity, but still retains the founders' family values in its culture. My placement involved working with new recruits – from visa applications through to induction. This got me interested in 'Organisational Socialisation' or the process of integrating employees into a company, so I chose this for my dissertation."
Future in leadership
Tom's professionalism didn't go unnoticed and, on completing his placement, the HR Director wrote to say thank you and tipped him for a future in leadership.
"I'm getting involved in as much as possible while I'm still in education. I've signed up for more volunteer work and joined the Language Exchange Society, where I can learn about other cultures while brushing up on my French.
"I didn't have the confidence before to even consider working overseas. But after speaking to people at T.D.Williamson from US talent developers to French expats, I've expanded my horizons. Perhaps those French skills will come in handy."