Tom - Audio and Music Technology
Tom pulled out all the stops to complete his degree while working full time. He's now doing his dream job, creating audio for the video games he loves.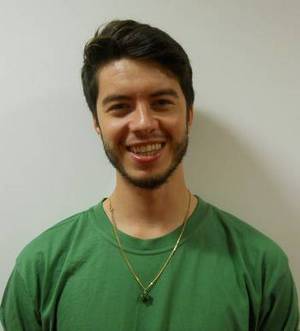 "I believe that if you approach something willing to learn and soak up knowledge, you have everything at your fingertips to achieve something great. UWE Bristol was no different: we were surrounded by people who loved music and sound, and by the equipment we needed to create it. The staff were always around to help, and as long as you put in the effort, they would match that with encouragement and support. I had a particularly good relationship with my final year project tutor. He always provided great feedback and he was a huge part in me getting a first.
A perfect opportunity
"My professional career started when I managed to land my internship at Microsoft. I'd met my future boss at a game audio conference in London, and he told me about an upcoming intern position designing and implementing sound effects for video games. It was exactly what I wanted to do for my placement year.
"I learnt so much during that time. Theory and examples can only get you so far; stepping into a real-world situation and working is something I'd recommend for everyone. You grow as an individual and it can give you tremendous confidence when you come back to study.
"I had a really successful internship and when it ended they asked me to stay on as a junior sound designer. I knew it was exactly the job I was after but I really wanted to see my studies through. Fortunately UWE Bristol were very accommodating, and allowed me to take my final year over the course of two years doing half my modules at a time. This way I could work full-time and do my studies in my spare time.
"I'm proud of finishing my studies whilst working full time, it was often a strain to do all my work in my free time and there were certainly moments when I questioned my decision. But graduating with a first and two years of industry experience has put me in a very good position.
From Microsoft to Ubisoft
"Over the next couple of years I worked with Microsoft then Sony Playstation, before taking on my current role as an audio designer at Ubisoft Massive Entertainment in Malmö, Sweden. I've now been here for a couple of years, still working on video games and still getting just as much enjoyment out of it as my first day as an intern. We're just finishing up on our latest game, Tom Clancy's The Division 2, which has been a great experience.
"Sound plays an important role in video games and it's my job to help realise the goals set by the audio director, by creating content that brings the visuals to life and immerses players in your world. I think a lot of my knowledge has come from the structure that I learnt from UWE Bristol. From live recording to understanding microphones and signal chain flow - I learnt all of this at university and I still use a lot of it to this day. There was also a game audio specific module at UWE Bristol that let me dive into what I love doing.
"It's always exciting to release a game and know that millions of people around the world are hearing your work. For me it's really about creating memorable experiences for players. Video games are a medium that people really connect with - the quality bar is always set high, they're more popular now than ever before, and they're constantly evolving. I love having the feeling that my work is part of this, and it makes every day rewarding. Work is no longer work because my hobby, my passion, has become my career."