Thomas - UWE Bristol student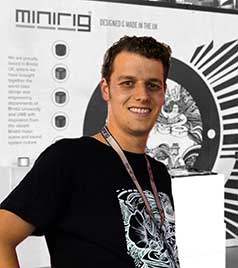 In 2011 Thomas co-founded Minirigs, an audio technology start-up company which design and manufacture portable audio speakers. The company's creation was inspired by Bristol's vibrant music scene and a passion for sound system culture.
The overall design ethos of Minirigs is to produce an environmentally conscious and longlasting speaker with the highest quality of sound possible. Thomas with his colleagues have developed three designs of Minirig speakers which are on the market, all designed in house at their factory in Bristol where they employ up to 20 people, many of whom are UWE Bristol graduates.
"I'm very excited about the future of Minirigs as there are many new products on the agenda, so yes you could say I have my work cut out. We are currently investing in new manufacturing equipment and work space so I can't wait to get my hands on some of the new machinery!"