Sam - BA(Hons) Animation
Sam's course didn't just give him a firm grounding in animation principles and software. It offered him the freedom to follow his own path.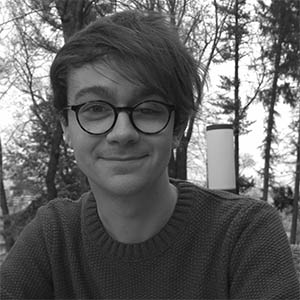 "At UWE Bristol I felt I could take any path I wanted."
"The animation course at UWE Bristol introduced me to people who really care about their craft, and who have an open and accepting attitude to all kinds of animation. A lot of the other universities I looked at seemed to want to build people in a specific way, while at UWE Bristol I felt I could take any path I wanted. I genuinely loved every second – the course, the tutors, my classmates and the location were all fantastic.
"I can't emphasise enough how learning the key principles of animation has helped me over the years, and researching animation history gave me a better understanding of the trends that influence art styles today. We had access to industry standard software, and the course's links to local industry and the animation community were a great way of getting your work seen by the people that count. We also learned how to interact with studios and professionals, which I used to get really nervous about, so it was great to be able to talk it through.
"I'm blind in one eye and partially sighted in the other, and UWE Bristol never let it seem like something that could get in my way. They were fantastic at offering me support if I needed it.
"I was lucky enough to gain work experience at Sun & Moon Studios, where I learned lots about the professional animation pipeline, industry tricks and the pace of projects. I now work there full time, but my job title changes every day. On some days I'm lead designer on a project, on others I'm a storyboarder or animator, and sometimes all of them at once. It's amazing having a career that gives me the opportunity to flex more creative muscles than my body has room for.
"Without UWE Bristol I doubt I'd have a job in the industry. It gave me the building blocks to be what I am today."
See some of Sam's work on his website.