Saharla - Psychology and Sociology
Saharla, currently on placement for her BSc(Hons) Psychology with Sociology degree, secured a Student Experience Grant from the UWE Bristol Fund for her project, the 'Hijabi Monologues'.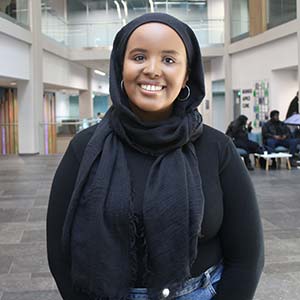 The Student Experience Grant enabled Saharla to bring in local poet, Shagufta Iqbal, to run a workshop with a group of Muslim women students at Hamilton House, Stokes Croft, where they explored their identities and relationships with their Hijabs through poetry as part of International Women's Week.
The project culminated with a live performance of the monologues by the students involved. The performance took place at Frenchay Campus in front of an audience which helped boost the students' confidence, develop their own communication skills, and challenge attitudes surrounding the significance of the Hijab to different women and the intersections of a diverse range of identities.
Giving Black and Minority Ethnic (BME) students a platform to voice their opinions and getting the wider student population to understand more about their fellow course mates is crucial if we are to be able to spread positive messages of inclusiveness.
Without this funding from the UWE Bristol Fund, Saharla wouldn't have been able to make the difference she did:
"I really appreciate the UWE Bristol Fund for funding "This Hijabi Says" with a Student Experience Grant."
"It helped us get an amazing and inspiring local poet who helped us explore our hijabs in ways we had never thought possible."
"We also got to perform our poems to an audience that was made up of many different people. This event really let people see a different side to Muslim women which the media doesn't show."
Saharla is now planning 'Hijabi Monologues' as workshops to provide a safe space for Muslim women to explore and learn about their identities in innovative and creative ways.
Make a donation to the UWE Bristol Fund
Donations to the UWE Bristol Fund provide vital grants to our students and local communities. From supporting students in need and local community projects to pioneering research, we can enrich and transform lives for the better.
Make a donation