Saf Nazeer, BA(Hons) Economics and Marketing and MSc International Management
Saf Nazeer is co-founder and CEO of Helpfulpeeps, a digital platform for peer-to-peer help that has enabled tens of thousands to find support from people in their local community.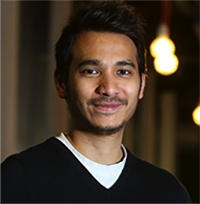 After graduating from UWE Bristol and building a successful career in sales, Saf decided he wanted a change. In 2014, he quit his job, harnessed his passion for technology, social entrepreneurship and building communities to set up Helpfulpeeps.
In a world where people were spending more time online, the idea was to create a platform that would leverage the power of community and make it easier for people to connect and help each other in the real world.
What started as a pilot in Bristol, quickly gained traction in neighbouring cities through press coverage, social media and word of mouth. This growth was supported by an increasing amount of Helpfulpeeps members who went on to become volunteer ambassadors to promote the service in their Neighbourhoods.
Helpfulpeeps has since grown to over 230,000 members with active communities in over a dozen cities in the UK across both the website and mobile app (iOS, Android). The big vision is to enable as many people as possible to re-discover human connection in the digital age.