Rhian - Forensic Computing and Security
UWE Bristol students visit Hadron Collider
Final year Computer Security undergraduate, Rhian, was one of ten UWE Bristol students who went on a field trip to visit the CERN (European Organization for Nuclear Research) this April. As well as getting to see their state-of-the-art research laboratories and computer centres, she managed to get up close with the Hadron Collider. Rhian talks about the trip and her one-off chance to see the facility.
UWE Bristol and CERN partnership
"We were invited to visit CERN and I was keen to go as it was a once in a lifetime opportunity to see the Hadron Collider. I knew it was switched off and that there was a big probability that we'd actually get to see it up close.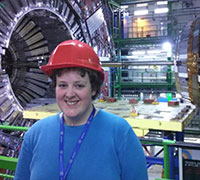 "The whole field trip was fascinating - there was a lot to see while we were there. UWE Bristol students who were on placements, or about to start graduate jobs showed us around Geneva. They booked us on with the staff members who then showed us around different parts of the facility.
"When the Hadron Collider is in use, you can't get anywhere near it because of the radiation levels. It had to be on a two-year down cycle so they can upgrade certain parts of it and they're busy looking at the data that they've already collected from it. So when it's switched off, you can get up on the viewing platform right next to it so you can see it up close.
"The bit that closely related to my degree was seeing the computer centre. We got to see all the data, how they operate and how they're shifting to create their own cloud computing system to support the masses of data that need consolidating and working on simultaneously."
Rhian graduates this year and goes into a job as a software engineer for Marks & Spencer in September.