Ravi - LLB(Hons) Law
Ravi Naik is a Human Rights Lawyer and partner at Irvine Thanvi Natas (ITN) Solicitors, known for his ground-breaking work on data rights. In October 2018, he was named Human Rights Lawyer of the Year by the Law Society at the annual Excellence Awards.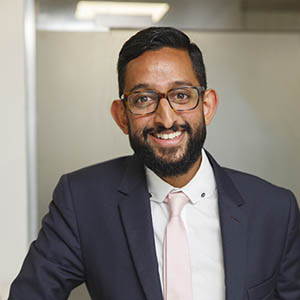 Ravi studied LLB(Hons) at UWE Bristol, graduating in 2006. He is best known for his work on cases that protect individuals' data rights, representing clients in some of the world's most high profile and controversial cases. Notably, Ravi acts for the claimants in the lead claims against Cambridge Analytica for political profiling, as well as numerous other precedent setting data rights cases.
Ravi has also written extensively on the impact of developing technologies on rights and their constitutional impact, as well as speaking regularly on the subject to a range of audiences on themes of rights and technology. This background has taken Ravi to work for a range of high profile clients from technology companies to civil society groups to politicians, both here and abroad.
He was awarded the accolade of Human Rights Lawyer of the Year for this pioneering work. He was also profiled by the Law Society Gazette for his pioneering work.
After receiving the award Ravi said: "Receiving this recognition is fantastic and a marker for the future of rights in technology. When I was a student at UWE Bristol I could only dream about winning such an award.
"It is a testament to the education received at UWE Bristol and the forward thinking I was embedded with whilst there. That ethos has carried me forward throughout my career and been allowed to flourish with those I have subsequently been lucky enough to work with".