Oscar - Geography
Geography student helps improve sanitation in Uganda
Geography undergraduate, Oscar, is spending the third year of his degree on placement with the National Association of Professional Environmentalists (NAPE) in Kampala, Uganda. He talks about the experience so far.
A challenging and fascinating experience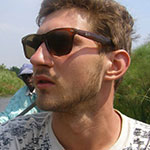 "I arrived in Uganda not knowing a single person, having never been to Africa before and never having lived outside of the UK. There was definitely a moment of apprehension just before coming to land where I asked myself 'what on Earth are you doing?' That thought didn't last for long.
"My internship at NAPE has been the steepest learning curve I have ever encountered, but the most fascinating. Being involved in projects, and meeting the communities and stakeholders I've spent the last couple of years reading about, has done more for my understanding of the world than another five years in the University library could have.
"So far my roles have included: helping to find funding for this financial year's projects; writing project proposals; editing reports on a NAPE study on the rights to water and sanitation in Uganda; assisting in independent consultations in the field, including interviewing a range of government officials and community committee representatives; writing articles and proof-reading a lot of work.
"Living in a different culture for an extended period of time opens your mind to how differently the rest of the world live. Being called 'Muzungo' everywhere I walk, the chaos of the traffic, the sun, dust, burning rubbish, potholes and the over-packed minibuses is incredible to see when you're travelling, but exhausting to live with for an extended period. The expat community in Kampala is very well established with an interesting mix of volunteers and research students and a nice escape from the madness every now and again."