Olivia - Graphic Design
Designing a winning Christmas e-Card
Olivia Bull, a first year BA(Hons) Graphic Design student, created the winning design for the UWE Bristol Christmas e-Card competition.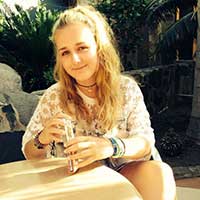 In celebration of Bristol being named European Green Capital 2015, the message on the e-Card is: 'Wishing you a Green Christmas.'
The e-Card is sent out to a range of audiences including employers, politicians, civil servants, staff in other universities and supporters of UWE Bristol.
Olivia, who attended Notre Dame Roman Catholic School in Plymouth, describes where she found inspiration for the design and her plans for the future.
Inspired by contemporary design
"My design for the Christmas e-Card competition was inspired by contemporary design. I like modern simplicity and shapes. The design had to incorporate an eco-feel so I referred back to my visit to The Eden Project (in Cornwall not far from my home in Plymouth) and focused on the shapes and colours from my time there."
Supporting disadvantaged communities
Olivia received artist credit for her winning e-Card design and a prize of £200 which she donated to charity. Olivia is currently fundraising for the FutureSense Foundation where a group of UWE Bristol students are planning a trip to Northern Thailand to help disadvantaged communities and work in an elephant sanctuary.
Future plans
"My future ambitions are to travel the world and I hope to design for the likes of Pentagram, Vault 49, Nike and other high end companies and brands."