Mollie - Sports at UWE Bristol
After writing her dissertation on the psychological experience of climbing the world's highest peak, Mollie decided to take on the mammoth challenge herself – becoming one of the youngest British women to reach the summit in May 2012.
From UWE Bristol to the top of the world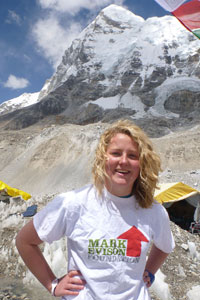 "The idea of climbing Everest came in my final year at UWE Bristol. I was writing my dissertation in the area of sports psychology - 'The psychological experience of climbing Mount Everest'. About half way through my first interview I decided that Everest was something I needed to experience for myself.
"I knew from my dissertation that I had to take a really pragmatic approach to climbing Everest and not focus too heavily on the summit. It's a two month expedition, so just taking it a day at a time and seeing everyday on the mountain as an achievement was totally important."
Specialist training at Centre for Sport
"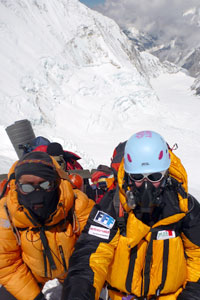 My course at UWE Bristol gave me massive scope to tailor my learning to my interests, through great module choices and the ability to be so specialised with my final year project. UWE Bristol played a massive role in my training. As soon as I had decided to climb Everest, I went down to the Centre for Sport and had a meeting with Steve Lock, the strength and conditioning coach. Over the next 10 months Steve trained me to be in the best possible shape to cope with the physical challenges I would face on Everest.
"Securing sponsorship was nearly as hard as climbing the mountain itself! I had to raise about £25,000 to join an expedition and being a poor university student, I didn't have this. I sent out more than 30 sponsorship proposals each week and got about 30 rejections each week. This went on for about eight months and then, four weeks before I was meant to be leaving for Everest, my sponsorship finally came through.
Mount Everest conquered
"I am one of the youngest British climbers to summit Everest, I was 21 when I summited. There was a record up for grabs on the mountain this year, to be the youngest British woman to summit. However, there were two other girls on the mountain (Becky Bellworthy and Leanna Shuttleworth), both good friends of mine and both younger than me, who also successfully summited. It's an amazing feeling to have stood on top of the world."
Related courses
Further information