Mike Silva - Quantity Surveying and Commercial Management
With a wealth of careers insight and a placement year in Australia under his belt, Mike can look to the future with confidence.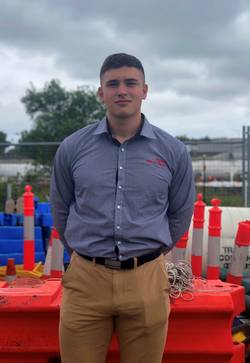 "There's a huge demand for quantity surveyors in the current economic climate. Building projects are on the rise and the number of qualified surveyors is in decline, so I felt it made sense for me to study this course.
"I was also attracted by the opportunity to genuinely benefit communities through delivering sustainable infrastructure. It's rewarding and fulfilling, and there's no greater satisfaction than seeing a project through from beginning to end.
"I have thoroughly enjoyed my time at UWE so far. I've made use of relevant workshops and presentations as well as visiting professionals in the workplace. The course leaders have plenty of field experience and are always keen to share their insight, so you can further your learning and stay up-to-date with the industry as it evolves. I've gained a lot of insight into what I can achieve with my degree, aiding my future plans.
"The course also encouraged me to pursue a placement, which I'm currently undertaking in Australia. I'm based at Airport East Project Mascot in Sydney, where I work on financial progress reports, contractual matters and client disputes.
"It's given me the opportunity to apply the skills I've been taught in lectures to real-life scenarios. I'm learning to keep up with this fast-paced industry: communicating in a professional and effective manner, and thinking more methodically, especially when resolving contractual and financial challenges.
The placement being in Australia, has given me the chance to live abroad, experience another culture and interact with a wide range of people. It indicates to future employers that I am not afraid to move outside of my comfort zone, or travel for employment.
"I feel I've been given an experience of real working life, and demonstrated my ability to cope effectively. The vocational skills I have learned will definitely be relevant to any industry-based role I may have in the future."