Mena Fombo BA(Hons) Time Based Media, 2004
Studied: Time Based Media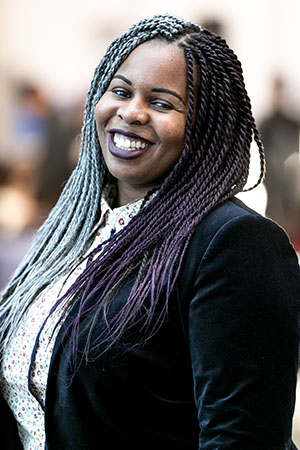 Dr Mena Fombo makes things happen. She launched Black Girl Convention in 2017 - a social enterprise campaigning for equality. As well as coach, motivational speaker, activist and facilitator, Mena is a proud British Nigerian Bristolian. Her TEDx Bristol talk 'No. You cannot touch my hair' is highly acclaimed.
Mena reflects on her time at UWE Bristol 15 years ago and the lack of representation she encountered within the creative industries.
"It was a challenging time, there not being black films, black books, black magazines or resources - I spent a lot of my time looking to black Hollywood for inspiration rather than British movies.
"I learned very early on that I would always have to challenge racism, sexism, classism and ignorance throughout my professional career. It definitely had an impact. It drove me to want to change the representation and the industry."
Since then Mena has returned to UWE Bristol, working with staff and students on a programme to tackle the disadvantages that BAME students face in the job market. Through innovative race and identity coaching, mentoring and talks she works to empower students with a forward looking approach.
In addition to her undergraduate degree at UWE Bristol, she's received an Honorary Doctorate acknowledging her ongoing commitment to support the political, social and economic equality of the BAME community, with a particular focus on helping women.
Find out where a degree from UWE Bristol could take you. Explore our courses.