Lara - MEng Aerospace Engineering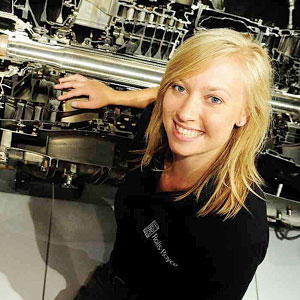 "I did a sandwich year in industry and a summer internship - both with Rolls-Royce. UWE Bristol's encouragement to get industry experience and partners in the aerospace industry meant I had the perfect experience to get a graduate position here.
"On the Graduate Scheme, I work on different projects every six months. On the first, I was based in the UK. The next two were in Vung Tau, Vietnam followed by Montreal, Canada.
"My first project involved developing a surface treatment to protect fan blades on jet engines from damage. I then developed the technology and managed the manufacturing process to substitute the titanium in these blades for lighter composite materials. I worked on marine technology in Vietnam. There are so many areas where an engineering degree can be applied."
Proactive training at UWE Bristol
"A lot of research and resourcefulness is needed in this job. I was encouraged to research beyond the Internet and library at UWE Bristol; this proactive training has benefited my career immensely. I'm now able to take the initiative and innovate – I even presented composite technology at the House of Commons!
"Rolls-Royce operates in over 50 different countries and I communicate with people all over the world. I'm part of several projects, so it's important to prioritise my workload. Working with different modules, assignments, exams and deadlines at UWE Bristol was good preparation for this. I also studied modules that helped me understand team dynamics and how best to communicate with others. This has been really useful when managing stakeholder groups and projects with diverse team members.
"I worked hard at university and continue to do so here. It's worth it for the job satisfaction. For me, it's a pleasure to help make products that make a difference."