Kimberley - Adult Nursing at Gloucester Campus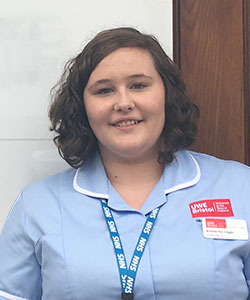 I am the first person in my family to go to university and I hadn't realised that nursing was the profession for me, until I got my first part-time job in the kitchens at a local residential care home when I was 16. I loved working there; helping and serving the residents.
Whilst I was studying at sixth form, I had the opportunity to attend an Open Day at UWE Bristol's Gloucester Campus at Alexandra Warehouse. It's close to home and from the moment I walked in, it just felt right. I went on a tour of the building and I was fascinated by the facilities, including the simulation suite. I also took part in a lecture, which I really enjoyed, and met some of the staff who teach the Adult Nursing course. I was really inspired by what I was seeing and hearing. It was then that I realised that Nursing was the career for me.
I applied to UWE Bristol and got an interview. On the day itself I knew that I would be really comfortable studying at Gloucester. Unfortunately, I wasn't offered a place and I was so disappointed. But, I was offered a full-time job as a Carer at my residential care home and I immediately accepted.
I really enjoyed the feeling of making a difference to each of the resident's daily lives and I was even nominated for a Best Young Carer Award at the Great British Care Awards! But I still knew I wanted to be a nurse, so I took an opportunity to volunteer in Kenya. Whilst I was there, I volunteered in a hospital, I taught in a school and I even helped build a house for a local woman!
With all the new experiences I'd had, I reapplied to study Adult Nursing later that year and had another opportunity to interview at the Gloucester Campus. This time I got an unconditional offer. I was so happy! I started in September and I am enjoying every single moment. Getting back into studying has been challenging, but the support from my module leaders, my tutor and my peers has been incredible. If I've had any questions or was unsure about anything, the staff have always been there to guide me. I'm about to start my first placement on a Cardiology ward at a local hospital and I can't wait to start putting my skills into practice.