Kim - Aerospace Engineering
High-flying student designs solar-powered aircraft
International student, Kim-Tobias Kohn, is doing the final year of his BEng(Hons) Aerospace Engineering degree at UWE Bristol. He is already testing and aims to bring to life his solar-powered aircraft design while studying for a Master's degree over the next year.
UWE Bristol facilities test aircraft stability
Kim talks about his aircraft's development and the testing he has done at UWE Bristol.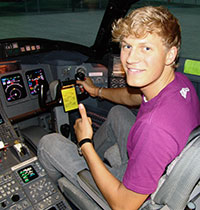 "I started working on my model aircraft 18 months ago in Germany. The model was designed and built there but the final measurements were done here at UWE Bristol because there's a large, well-equipped wind tunnel here.
"My design incorporates a solar system so that, when you reach flying altitude, it will give you enough energy to take you to your destination using solar energy. When you're designing a new aircraft, it's important to test whether or not it's stable, especially a Flying-Wing. We used UWE Bristol's wind tunnel and conducted free flight tests to enable us to evaluate direct forces as well as dynamic responses to steering influences.
"We recently did a flight test experience at Gloucester airport, which was pretty awesome. It was connected to our flight mechanic lecture and our main task was to evaluate the basic flight-stability parameters of a Piper PA-28. We conducted performance research into the aircraft's handling. For example, recording what happened when we gave any rudder input while flying at a constant altitude, to evaluate whether the aircraft shows stable or unstable characteristics. We noted how the aircraft reacted in several flight conditions, configurations as well as speeds and rated it on how stable it was.
"I'm doing some feasibility research this summer to work out if it's possible to build my aircraft as a glider. I also need to do some computer modelling to help me get my plans off the ground – quite literally!"