Katie Alcott - Fine Arts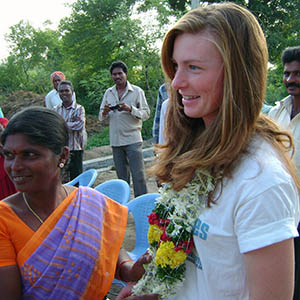 Making a difference in India
Katie founded award-winning FRANK Water in 2005. After suffering dysentery from drinking dirty water in India, she pledged to make a difference to the hundreds of million people worldwide who lack safe drinking water.
By selling her own ethically sourced brand of bottled spring water to local independent shops, cafes and restaurants, Katie used the profits to fund safe drinking water for communities that need it most. FRANK Water Projects was established.
FRANK Water's international programme aims to improve access to safe water, sanitation and hygiene, the most basic of human needs. To date, FRANK Water's work has reached more than 386,500 people with safe water and sanitation.
Making a difference to the environment
Responding to environmental issues, FRANK have gone plastic-free, developing an innovative festival and event drinking water solution. They provide refills of filtered, chilled water to those who purchase a FRANK refillable water bottle. This has dramatically cut waste across festival sites and has supported behaviour change of the UK public. FRANK is also working with teams from UWE Bristol to reduce waste and improve access to sustainable drinking water across campuses.
Katie studied Fine Arts at UWE Bristol and was awarded an Honorary Master Business Administration by UWE Bristol in 2013 in recognition of her pioneering social enterprise work.