Kat - Mechanical Engineering
I decided to study Mechanical Engineering at UWE Bristol – the course offered a broad set of skills, meaning I would be able to access a multitude of industries and career paths once I had qualified. Also, the flexibility of the course appealed as I had a young son, Jack.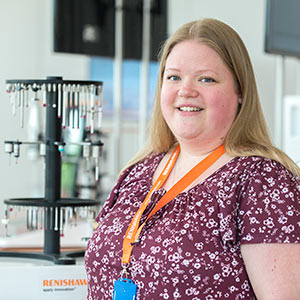 I was able to balance my time fairly well, attending my lectures in the day while Jack was at pre-school. I could then spend a few hours with him in the evening before he went to bed and then resume my studies.
During exam time or coursework deadlines, my parents provided much-needed help, taking care of Jack for a few extra hours in the evenings so I could put extra time into studying.
On some days, I was even able to take Jack to lectures with me. The lecturers were very accommodating – one even added extra slides to their presentation with questions for Jack to answer! It meant a lot to me that I wasn't made to feel excluded because of personal circumstances.
Industrial placement
Two years into my degree, I was required to undertake an industrial placement. Starting at Renishaw was a considerable change of routine for everyone. Jack was now at school full time which meant longer days for both of us. I think it took around six months to finally get into the swing of things! Thankfully, I was able to keep up with my uni work; a learning diary and a few reports, as I was given time to do this during my working hours.
Doing the placement was really useful. You start realising how the skills you are learning at university could be applied in the real world. During my placement, my manager made an offer I simply couldn't refuse – to stay on in my role past the 12-month placement. The drawback; I had to finish my degree while continuing to work full-time and juggling family life, not an easy task! I knew at the time that this was going to be a challenge, but I didn't quite realise how tricky this balancing act was going to be.
I was incredibly lucky to have such brilliant support from both Renishaw and UWE Bristol. I was allowed to split the remainder of my degree over two years – I would complete my remaining modules and exams in the first year and spend the second year writing my dissertation. Renishaw supported me with flexible working hours so I could still attend lectures and catch up with my tutor. They also provided me with a project for my dissertation, so I was able to do a lot of the design work during my normal working hours which was a big help.
What next?
I have now reached the end of my studies, and it's a very strange feeling. Five years ago I would never in my wildest dreams believe that I would already be three years into my career and on track to achieve a First Class degree. On the whole, the experience has been brilliant, albeit very challenging at times, but I can't imagine that I would have had more success by following a different route.
Going a bit off the rails after school, having bad life experiences or raising children shouldn't stop anyone from going to university. Being a 'mature' student didn't hold me back. In fact, it probably helped because I'd had so much life experience already that I knew I could handle a challenge. There were lots of mature students on my course, some also with families, so it's totally do-able.