Karime - Finance
After graduating, Karime went to work in an Merger and Acquisition boutique, advising companies on fundraising and during the sales process. Karime then had the opportunity to get on board a start-up and joined as Head of Finance.
Real world advantage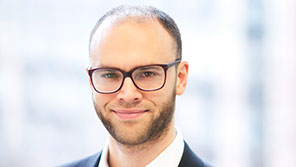 "The financial courses at UWE Bristol provided me with all the theoretical backbone to excel in my role as Merger and Acquisition Advisor. Moreover, they helped me to structure and organise complex tasks and laid the groundwork for the many tasks and daily challenges I face in my current finance role at Door2Door.
Standing out from the crowd
My postgraduate studies at UWE Bristol were the door opener for me because all my previous colleagues had a postgraduate degree. Studying with a group of smart and ambitious people increased my drive for success and the way I look at challenges."
"Studying a postgraduate course with a small class was fun and helped me develop crucial soft skills. Building on these soft skills is a great career accelerator. The small classes gave me greater exposure to the teaching staff and facilitated plenty of profound discussions.
Putting theory into practice
"The best part was the combination of strong academic theory with real life examples and case studies. It was a great way to learn complex financial models and interdependencies. We could also submit an equity report instead of a research project as master thesis, which was a great opportunity to apply all the different models in a comprehensive, real life case study."
Investing in Business and Law
The University has recently completed a £55 million building for the Faculty of Business and Law which means current and future studies can enjoy the very best facilities as well as the very best courses.