Joseph - MSc Advanced Forensic Analysis
Better equipped for a career in forensics
Before undertaking his postgraduate degree, Joseph was studying BSc(Hons) Forensic Biology* at UWE Bristol. MSc Advance Forensic Analysis seemed like a natural progression, allowing him to develop knowledge in specialist areas of forensic science and to gain the necessary research skills to apply for research posts in this extremely competitive area.
Astounding passion and enthusiasm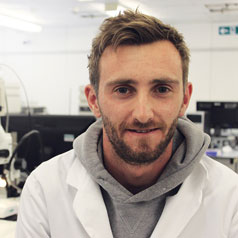 "Having done my undergraduate degree at UWE Bristol I was aware of the excellent facilities and this was a major factor in my decision to continue my studies here. With the 'crime scene house' and dedicated laboratories, I haven't seen a better-equipped forensic science department.
"Also key in my decision was the quality and passion of the academic and technical staff. Their passion and enthusiasm, coupled with their genuine concern for the success of their students, is astounding.
"Forensic science is a practical profession and the masters course has practical aspects in every module, including the individual research project, which is giving me the requisite skills to be able to move into the working world. I am currently undertaking research in forensic entomology, focused on factors that affect time of death calculations that could help improve forensic investigations at crime scenes.
"I believe this course has prepared me extraordinarily well to progress onto a research position. The amount of experience, knowledge and skills that I have gained is second to none, and this has been noted in interviews that I have had with potential PhD supervisors at other universities. I've just heard that I've been awarded a place to study for my PhD in Entomology at Harper Adams University College, and I will be starting in the autumn."
*Please note: The BSc(Hons) Forensic Biology course name has changed to BSc(Hons) Forensic Science.