Joe - Quantity Surveying and Commercial Management
Putting professional skills into practice
"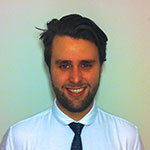 I was based just outside of Lyon with a team of around 20 people from 12 or 13 different nationalities. Of course I missed family and friends at first but quickly made lots of new friends and felt right at home.
"My placement involved putting everything I'd learned at UWE Bristol into play in the professional world, and I got to do lots of different things.
"I started off putting measurements into cost models and cost plans in order to deliver accurate estimates. I was heavily involved with the pre-contract phase on a residential building with 17 apartments.

"I went on to analyse different materials and implementation methods. This involved creating fictitious buildings, an individual house and an office, with full measurements and costs. Then I assessed how costs were affected by implementing new systems, methods or materials associated with Lafarge. The results were used to analyse the benefits of the Lafarge system, whether these were upfront cost savings, whole life cost savings or any other benefits.

"It was good to get a taste of lots of different aspects of the job. I particularly enjoyed working client-side which involved having meetings, talking to people, looking at where projects could be modified and coming up with solutions."
Graduate opportunities
"I'm about to graduate and after having been in the running for six jobs, I have accepted a Graduate Quantity Surveying position within AECOM in central London. Employers have been really interested in my time in France and my placement has given me a lot to talk about in interviews. My experience working in a multi-national environment has also been viewed favourably. It shows I'm a good communicator and can work well as part of a team."