Jeremiah — LLM Advanced Legal Practice
Studied: LLM Advanced Legal Practice.
Committed to a future in law, Jeremiah Daliel knew what he was looking for in an LLM course — and he found it all at UWE Bristol.
First-hand information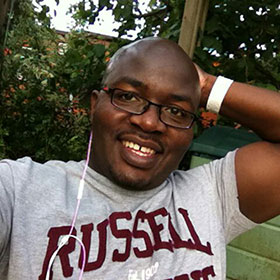 "As an undergraduate I spoke to LPC students and did some research, and found out that UWE Bristol was one of the best providers in the South West. The fact that the LLM incorporated the LPC was really attractive. The lecturers on the LPC advertised well so I had confidence in the type of teaching that I could expect."
Supporting success
"UWE Bristol offers great employment opportunities, so the journey is economically viable. Law fairs were encouraging — they gave me a wider choice of career paths with representatives from organisations such as Airbus, the British Army and many other business sectors.
"UWE Bristol has also invested a lot of money into its infrastructure which makes it a good place to spend my academic years — and I can't wait to move into the new law school.
"The law library is very well stocked and the law librarians are always willing to help. And, the staff and lecturers are always readily available to support you. The study rooms in the library are a good space for group learning and peer support, especially when we're preparing for group work. Providing me with all the necessary study material for my course, including all the text books that I need was the icing on the cake.
As a disabled student, I have received great support during my studies and the staff in the support office are amazing. They have always been there for me and it gives me confidence leaving home — they're like family."
Skills for today, and the future
"I've had the chance to work on my research, writing, presentation and management skills — and I was privileged to receive an ILM course on top of my LLB which was a welcome bonus. I'm also building further skills such as alternative dispute resolution skills and client care which, I'll need as a solicitor."
Personal achievement; professional prospects
"There's a lot of competition out there, including a lot of first degree graduates — the LLM on top of an LPC has really given me an edge. And the LPC is a practical, hands-on course so I'm a graduate who is work-ready.
"The idea of gaining a Masters qualification in Specialist Practice also gives me a great sense of personal achievement. It puts me in the managerial driving seat from the outset."
The right real world experience
"I had the chance to work with my mentor at the Environment Agency which gave me an insight into the area of practice that I'm aiming for. This really boosted my confidence — and it makes my CV look good."