Jared - Geography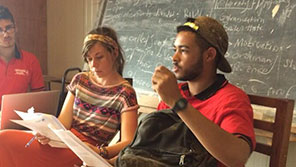 In the third year of his BA(Hons) Geography degree, Jared Joseph White travelled to Uganda as part of the UWE-Africa Water Security Programme.
He took part in research aimed at understanding water quality, access and sanitation conditions in schools in the town of Kanungu, which would provide the foundation for evidence-based intervention.
"The research has assisted in developing my dissertation, as it has provided me with primary data, which will underpin my hypothesis on water quality, water access and sanitation in schools in Kanungu. Data was collected through interviews and focus groups with school staff. Additionally, samples of treated water were collected and tested for faecal contamination.
"If I had this opportunity again I would definitely stay in Uganda for longer."