Jana - Aerospace Engineering
Judo star goes into aerospace at UWE Bristol
Jana Stucke – ex-team member of the German national Judo squad – is taking time off Judo to focus on the final year of Beng(Hons) Aerospace Engineering at UWE Bristol.
Excellent engineering facilities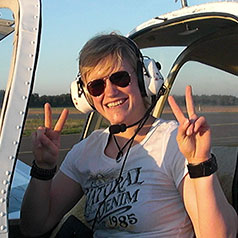 "I'm from Hanover originally but studied in a small town in Germany. We do our first and second year in Germany and then come over for our final year.
"There's so much you can do here at UWE Bristol – you have all the computers, 24 hours access, so many labs and a proper wind tunnel. We didn't have that in my other University. That's what I really, really like about it here.
"Here, there's a lot more studying at home. You don't get all the information about the subject you're doing. You have to be interested in the topic and to read around it. In Germany, the lectures are interesting but you're studying for exams, rather than necessarily for your knowledge.
"Here, there is more coursework and groupwork, which I'm not really used to. It's a nice experience getting to do more team work.
"We went to Gloucestershire and tested a PA-28 aircraft there. It was a good experience. I have my pilots licence - it's part of our course in Germany. I love all flying though so it was nice to have the chance to do it here during our course.
"I want to do my Masters here as well. I like UWE Bristol and the way of teaching. In Germany, I got a really good basic knowledge of engineering - here the course studies more aircrafts.
"I would love to be a pilot but I'm totally open to where I go. Because of my experience in Great Britain, I would like to stay here but don't mind going somewhere else – France or America. You get more and more interested in seeing other countries once you've started to travel!"