James - Physician Associate Studies
Why UWE Bristol?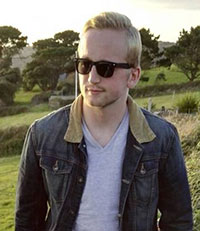 "As I had studied my undergraduate degree here, I knew all about UWE Bristol and the city too. I wanted to come back because of the extra-curricular activities, the societies and the clubs that are available to students and really made my time at UWE Bristol first time around so exciting.
"But it was meeting the course leaders that really helped me decide that this course was for me. Alex Stevens (the course leader), is a practicing Physician Associate and was able to tell me all about the professional career path that is still developing for PAs. It's a really progressive career with lots of opportunity. I knew I'd be able to develop my existing skills and knowledge further, as well as working with patients, which I knew was my passion."
A Masters with a practical focus
"The practical work I've been involved in has been brilliant. I've recently handled preserved specimens that helped my learning and understanding of anatomical structures and pathologies. The facilities at Glenside are great too. The campus is picturesque and the simulation suites and consultation rooms are excellent – they provide a learning experience that simulates a real-life workplace scenario really accurately.
"But it's not just the practical side of things that I've developed since starting the course. I regularly take part in group discussions, presentations and paired work and it's helped to improve my confidence, communication and team work. All really important skills that I know I'll need when I go into placement and into practice."
Working with practice
"I get to spend a portion of my studies out on placement, both in primary and secondary health care environments. Whilst on placement, I've been responsible for conducting examinations on patients, so I've had the opportunity to practice my techniques. Being on placement is also the perfect place to develop my existing empathetic and interpersonal skills even further."
The future for the PA
"I am sure that the Physician Associate role will develop and become more important within the NHS, so I feel very positive about my employment prospects once the course is finished."