James - Banking and Finance
After deciding on a career in financial services, James Leech knew what he was looking for in a degree course. Investing in the opportunities on offer means that he's hit the ground running and looking forward to a rich future.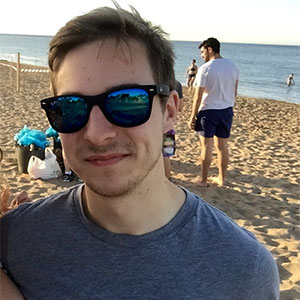 Selling points
"There were a number of things that attracted me to UWE Bristol – such as the modern, up-to-date facilities, and the calibre of teaching. But the primary attraction was the BA(Hons) Banking and Finance course. It was exactly what I was looking for as I wanted to develop a career in financial services."
Real world advantage
"The breadth of financial services knowledge that I've gained has been invaluable in my first few weeks of my graduate scheme at Fidelity International. It gave me a real advantage.
"And I developed many other skills throughout my studies – such as teamwork, presentation and analytical skills – which were all highly useful in obtaining my graduate role, and will continue to be useful throughout my career."
Enhanced opportunities for the future
"My course gave me the knowledge I needed to easily pass my Investment Operations Certificate (IOC) Level 1 exam in just the second week of my career. I'm now looking to start my Chartered Financial Analyst (CFA), which will offer me a lot of employment opportunities."
The value of progress
"I was lucky enough to complete a placement year at globalCOAL, a small coal brokerage firm in London. The experience gave me a lot of additional knowledge and grounded what I had learnt in my degree. It has meant that I can talk about relevant work experience in a professional setting, and this is something that employers are happy to see."