Udonna - MSc International Management, PhD Health Management
Udonna Okeke first came to Bristol from Lagos, Nigeria – ready to study International Management. After a few years working with the NHS, he's back at UWE Bristol as a PhD student and part-time lecturer at Bristol Business and Law School.
International appeal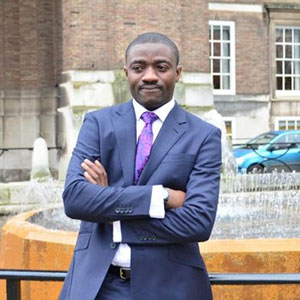 "I came to UWE Bristol to complete my MSc International Management postgraduate degree because of the institution's global reputation and its world-class teaching environment, which I heard about from UWE Bristol Alumni. I researched the course and saw that its content was based on cutting-edge theoretical and industry-focused modules.
"I was also impressed by the career development support available to every student irrespective of their country of origin and academic performance level."
The university experience
"The most fascinating thing to me was the teaching method and staff support and engagement. The teaching style encourages students to think about real scenarios, and most assignments were case studies where we could bring industry experience into the classroom.
"The faculty and library staff were all very welcoming. I'm an international student and I would have found integrating into the system very difficult if it wasn't for their help and support."
Exceptional preparation for the workplace
"My course was exceptional. The depth of the program structure made me ready for the industry. In fact, I went back to work with one of the local NHS Trusts in Bristol less than a month after I finished my course.
"We were always encouraged to attend the networking events organised by the faculty, and I got involved with lots of activities and engagements which really expanded my perspective.
"The MSc helped me improve my communication skills across a multicultural group. It also gave me the chance to develop my leadership, strategic analytic and planning skills. These are things that I have used every day and have helped me deliver quality services.
"It's had a big impact on my career – it's what prompted me to come back and self-fund my doctoral research which, in turn, has led to my taking a part-time lecturer position too."
Taking off
"After graduating, I became a recruitment administrator then, six months later, I progressed into the position of project officer and training administrator where I was responsible for the management of around 300 domestic assistant staff. Just over a year later, I became a team leader – designing the first phase of a resource allocation plan for the Soft Facilities Department in Southmead Hospital.
"Now I'm back at UWE Bristol undertaking the final year of a PhD and working as a part-time associate lecturer within the Faculty of Business and Law."
"The decision to go for my masters was the most pivotal moment in my life. Coming to study at UWE Bristol has been the take-off point of my career, and I've loved living in Bristol."