Hayley - MSc Science Communication
I bring science and art together
Studying Science Communication allowed Hayley to achieve her career plans and bring her love of science and writing together.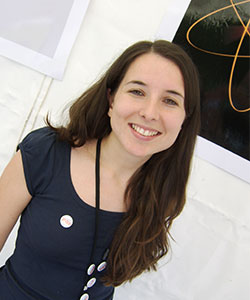 Hayley chose to study Science Communication at UWE Bristol, as the course combined her science background with her love of writing and fitted perfectly with her long term career plans to bring the two together.
Becoming self-employed
Hayley says, "Since graduating I have become self-employed, having established myself as a freelance writer working for lots of different clients, including magazines, book publishers, websites and universities. Along with my old course mates, I'm also one of the directors of a small company, Sounds of Science. We develop and run creative science communication projects, including a local variety night, and a website called Geek Pop, which curates and commissions music about science.
"I get to do lots of interesting things. For instance, in February, I ran a project working with local artists and engineers at the University of Bristol, where the engineers created art about their research, and each year in August I book science and nature-themed acts for a solar powered stage at the Green Man Festival. And I still spend a few hours every week working for UWE Bristol on the Science Communication Unit's Science for Environment Policy news service, which is distributed to policymakers all over Europe."