Harry - Diagnostic Imaging
A lasting impression
I've been interested in health care since I was young, and diagnostic imaging ticked all the boxes for me. I wanted to work in all the different parts of a hospital, and diagnostic imaging gives you the chance to rotate through different areas and work with the trauma team, in A&E and in theatre.
I first discovered diagnostic imaging at a career convention at school. Radiographers from our local hospital came in to talk about it and it really appealed to me.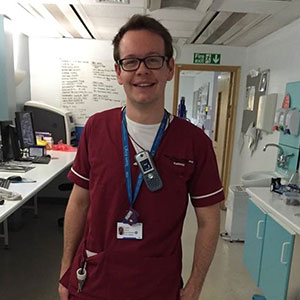 I did some research and got work experience in a hospital — I recommend doing at least a week in a diagnostic imaging department to get a flavour of what really goes on. It's a vocational course so it's important that you know it's right for you before you take the next step.
Branching out
What I like about diagnostic imaging is that you can branch out and specialise in all different areas.
Ultrasound and nuclear medicine are two of the many routes you can follow, but my personal preference is paediatric radiography. I think it presents more of a challenge.
Feeling the buzz
Diagnostic imaging is a really exciting profession. Technological advances in the field mean that it's always developing - and fast.
"It gives me a buzz knowing that when I qualify, I will be part of a team that the hospital will depend on to provide an essential service."
The day to day
I decided on UWE Bristol after coming to an open day. I liked the university and could see that the course is very well structured, with lots of friendly lecturers.
I really enjoy being on Glenside with other health and social care students who understand what it's like to be on placement and have similar schedules.
The timetable changes each week and we get a good variety of placements. No two weeks are the same, but that means you get the best experience before graduating.
Before a placement, we use the imaging suite at Glenside every week. That's how we make sure that we're completely competent with the basic radiographic skills we'd need. We also get support from second year students who lead extra sessions to answer our questions and comment on our technique in a relaxed and informal setting.
Real world experience
So far I've done a placement at the Bristol Royal Infirmary, which has introduced me to the role of a diagnostic imager. I really enjoyed it because it's a busy inner city hospital, so there's a lot of eye-opening trauma.
The support was great. Every hospital works closely with UWE Bristol to ensure we're getting the best from our placements, and my lecturer visited regularly to check up on my progress.
Ready for the next step
Lots of UWE Bristol students have gone on to become radiographers and diagnostic imagers at The Bristol Royal Infirmary.
Through placements we get to experience lots of different clinical settings - I think this is really valuable when it comes to taking the next step after graduation.