Emma – Mathematics
Emma was the winner of the Institute of Mathematics and its Applications (IMA) prize for the best student in Mathematics and Statistics 2016. From an invaluable placement year to her achievement while studying, Emma is now undertaking a PhD in Mathematics to reduce waiting times for those with cancer.
Placement year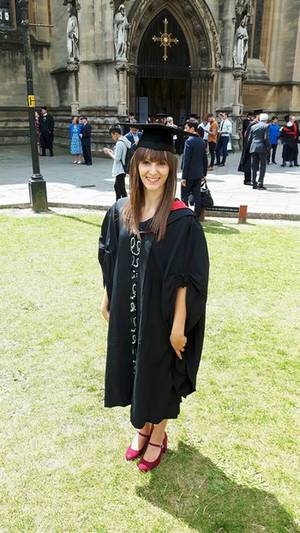 Emma was interested in placements as a chance to get experience of a work environment without being tied to a long contract. Equally appealing was the boost it would give to her employability beyond university.
"My advice is to definitely go on placement, even if it is not in an area which you would initially want to work in, you may find that area is actually for you. If you do finish your placement and think that area is not for you, at least you have tried it out. A year working in industry will be invaluable when applying for jobs or further education as it would have developed so many skills which employers will be looking for."
Emma first heard about the opportunity to do a placement with the statistics department of the Welsh Government when they came to give a talk at UWE Bristol. On her placement there, she produced two reports, one on Education and the other on Internet use. On both of these she is named as the Statistician.
Advice for others considering a placement
"Start your search early! Have a look around at where you would like to do your placement and make a list of when the deadlines are. If you don't get a place straight away, keep trying."
After UWE Bristol
Emma is now undertaking study for her PhD in Cardiff University School of Mathematics, studying under Professor Paul Harper and Dr Daniel Gartner. Her PhD is a KESS2 project titled "Smart Simulation and Modelling of Complex Cancer Systems", and is in partnership with Velindre Cancer Centre. The aim of the PhD is to use Operational Research techniques to produce a state-of-the-art decision support tool to improve patient care and outcomes by reducing time to diagnosis and treatment times for those with cancer.
To UWE Bristol students: present and future
Emma offers words of advice to prospective students as well as those thinking about next steps and considering a PhD.
"For prospective students, UWE Bristol is a great university that offers a syllabus covering all areas of mathematics, including pure maths, finance, coding theory, statistics and operational research to name a few. The wide variety of teaching tools and involvement of computer software, real life examples and report writing assignments will leave you well-equipped for future careers in the modern world. The lecturers are very approachable and helpful, and there are even study spaces solely for use by mathematics students.
"To those looking for next steps, I would suggest that you make use of the contacts that the lecturers have, both in the academic and professional setting, as they are well informed of the opportunities available.
"For those of you looking to further your academic career, in particular a PhD, my advice would be to find an area of interest, and then research those who would be your supervisor. The relationship between yourself and your supervisor and their influence within the academic community will be key to your success."