Emma - Equine Science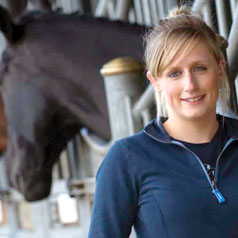 "I live in North Yorkshire and checked out colleges closer to home. Hartpury's facilities really stood out. Other college courses seemed more science-based where Hartpury's had a good balance of science and more applied equine modules. In my first year I didn't have my own horse, but was able to use the college horses for the equitation module."
Epsom work placement
After spotting a placement advert, Emma decided to do a sandwich year. Her work placement was on a racing yard in Epsom, working with race horse trainer Jim Boyle and on his wife Pippa's stud yard.
"My time was split between the two businesses. On the main yard, I helped with the daily routine and worked as a therapy operative. I put horses in the equine spa, and applied iced boots and a massage rug when necessary.
"I was also given a race horse to look after and got the opportunity to go racing with him. This involved going to the race course, getting him ready, leading him up and taking care of him afterwards. It was fantastic.
"I worked with a range of people on my placement including chiropractors, vets and farriers. The stud yard had a breeding programme, and I saw foal being born. Pippa breaks in all the yearlings before they go to the main yard to start training. Helping with that was another great opportunity.
"I now feel more confident putting things I've learnt into practice. It opened my eyes to what's out there – I would definitely recommend it.
"Work experience is really useful if you're unsure of what to do after graduating. Before my placement, I didn't know much about the racing industry. Now I'm considering working in it when I graduate."