Emily Bauer - BA(Hons) Interior Design
BA(Hons) Interior Design student Emily is boosting her confidence and employability with a three-month placement at a retail design specialist.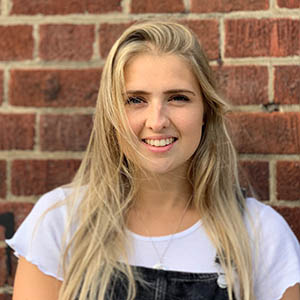 "I've always liked working creatively. As a child I used to draw a lot, and I love using creativity to generate ideas.
"I wanted a career based on what I enjoyed, so when I heard about UWE Bristol's Interior Design course I went to an open evening.
"The tutors were really nice and I was impressed with the fabrication facilities. They're separated into sections where we can work with different techniques and materials, such as ceramics, resin, wood, metal, 3D printing and projection mapping.
Developing a creative vision
"On the course we focus on the way the space is used, rather than furnishings and decoration. It's about the feeling that a space gives you. The layout, placement of objects, temperature, lighting and even smell all play a part.
"It's very satisfying and exciting to see a scribble on a page become a shape, then layer on texture and detail. The designs we come up with are constantly changing and evolve with your thought process.
Learning in action
"The highlight so far has been getting a three-month placement at ARNO, a company specialising in retail design with stores worldwide."
"I was thrown in at the deep end – making presentations, contributing to a redesign of the showroom, and sharing my sketches and initial ideas with clients. I'm using the skills and software I've been taught in class, and I feel like I'm learning constantly.
"Being offered the placement was a real confidence-booster. I didn't know what to expect before I started uni, but the whole experience has been a confirmation that someone sees something in me, that I'm capable of going on to bigger things.
"I've been encouraged to go beyond my own boundaries and explore the world of design on many different levels. There's more to come, and I'm enjoying every minute."