Coming to UWE Bristol
Elizabeth realised that she had a strong interest in public health during her undergraduate degree in Human Physiology in Nigeria. However, she wasn't sure what area of public health she wanted to go into. Elizabeth found that the UWE Bristol MSc Public Health programme offered the depth and flexibility to expose her to the different aspects of the field.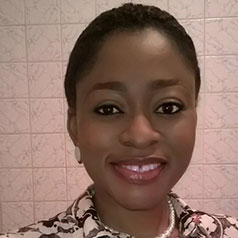 The part-time job that makes a difference
During her course at UWE Bristol she started part-time work on a cervical cancer health promotion programme in Bristol. This led to a focus on qualitative research in young women's sexual health for her dissertation. Elizabeth was the student lead for an evaluation of the use of social media in health promotion on the MSc Public Health and lead author of a peer reviewed journal article.
Making the most out of it
Elizabeth developed various skills during her time at UWE Bristol:
"As a student ambassador, I was able to develop effective communication and marketing skills while representing the University at events. As a PAL (Peer Assisted Learning) Leader, I have gained useful experience in leadership."
Her advice would be: "Approach each module with enthusiasm: it impacts on your learning."