Elise Townsend - Animation
Elise's fascination with animation took root during a summer course in her teens. Today, Elise, who studied BA(Hons) Animation, is part of the team that brings the Moomins to life.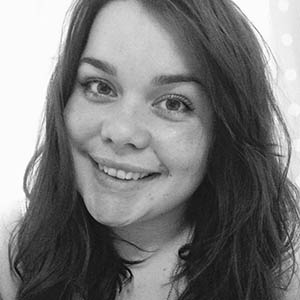 "I developed an interest in animation during my studies at college. I had taken part in a summer course at UWE Bristol, where I had the chance to try out stop motion animation and experience the equipment. With a lovely atmosphere to the University and good resources for stop-motion animation, I felt this was the right course for me.
"I really enjoyed my three years at UWE Bristol. The Animation course is very hands-on, and the practical experience I gained helped me develop key skills in teamwork, production management and communication, which are vital in my job role.
I was able to get involved with a variety of animation projects, which involved collaborating with a variety of people and building my understanding of production management. The teaching staff were very supportive, and encouraged me to take on the roles that have enabled to get me where I am now – I wouldn't have had access to those opportunities without their help.
"At our degree show I was introduced to the creative director of Rumpus Animations, which led to a two-week work experience placement. As I worked well with the team I was lucky enough to then be offered a contract and get my first job in the animation industry.
"Today I'm a junior production co-ordinator at Gutsy Animations, working on the new Moomin series. I work closely with our team in the art department, mainly with location, character and prop design.
"One of the most exciting experiences of my job so far was visiting Finland on a work trip. It was amazing to be able to travel and get to visit the Moomin Museum to see the beautiful models and original artwork.
"I've now been working in industry for three years, and through that time I have worked my way up from production assistant to junior co-ordinator. I have progressed a lot in both my career and my personal development, and I am excited about what comes next."