Rita, Nuno and Ed - UWE Bristol supporting entrepreneurs
With two successful businesses under their belts, Rita and Nuno, owners of Aymo, and Ed, owner of Mabboo, worked together to create a pop-up shop in Bristol's City Centre and enjoyed a very fruitful Christmas of sales.
Setting up a new business
Both businesses were set up through a UWE Bristol scheme, designed to mentor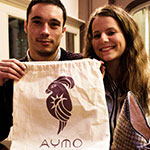 entrepreneurs through their first steps of setting up a business. For Nuno (BA(Hons) Accounting and Finance) and Rita (BA(Hons) Media Culture and Practice) the scheme allowed them to "turn their dream in to reality". Along with Ed, the group managed to secure a retail spot in Bristol's busy city centre where they set up their Christmas time pop up shop, ECO (which stands for Ethical, Creative, Organic).
From the Internet to the high street
As well as the obvious advantages of being able to sell large quantities of their products, the trio also found that the retail space was a great place to let people know about ethical and eco-friendly clothing. "It gave us a chance to actually talk to people about it (ethical clothing)" Rita said. "Contact with customers made it a lot easier to explain our products."
Taking risks
With both businesses now planning to expand their product ranges and looking to the future, Rita, Nuno and Ed say they would really encourage others to set up their own companies. Ed said: "If you want to start a business, there's no better time to do it, the internet means you can start a business over night with minimal cost." Nuno added: "You need to be willing to take some risks...put trust in your crazy ideas and remain persistent".