Dan - Motorsport Engineering
UWE Racing impresses at Silverstone
Motorsport Engineering undergraduate, Dan Nicklin, was in the 15-strong UWE Bristol team named 'highest placed newcomer' in Silverstone's Formula Student Competition 2012. They planned to build on their success through designing, building and racing a single-seater car at Silverstone this July. Unfortunately, they couldn't get funding but they've already started building the car.
Building the UWE Bristol team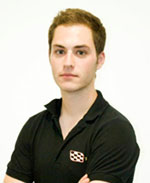 Speaking about UWE Racing, Dan explains,
"All the students involved are putting their own free time into this. It's great working with like-minded people. Everybody has an interest in Motorsports though there are team members from Economics, Law and lots of other different disciplines. The main team is from Motorsport Engineering but there are Mechanical and Aerospace Engineers as well.
"Universities from all over the world take part in the competition. In Class 2 last year, there were 22 teams and we finished tenth overall, which was pretty good. This was despite us not having team members with skills like economics. We had to do a lot of this ourselves and we were quite proud of that. Now we're building our business propositions for the event so we're looking for more business students to get involved and help out on these.
"It's a good opportunity to use everything we've learned on the course and put it into something useful. We also got to pick our jobs within the team, so we've been able to discover what we want to specialise in. That's been really useful."
"A lot of the current team are third years so they are going to leave this year. We've got the basis for a car except the funding. It's all there. We're going to need new students to get involved and keep it going so we can do even better next year."