Chris Ford, BA(Hons) Graphic Design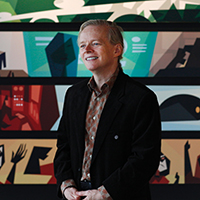 Chris Ford is a Product Manager and Business Director with over 30 years of experience in computer graphics (CG) software development applied to contemporary feature film visual effects, animation, game development and visualisation. He is a former Business Director of Pixar Animation Studios.
Chris became RenderMan Business Director at Pixar in 2005. RenderMan is the innovatory photorealistic 3D rendering software, developed by Pixar, behind films such as Toy Story, Monsters Inc and Harry Potter. During his time at Pixar, Chris developed the use and reputation of RenderMan to an industry standard. RenderMan is now employed in most contemporary feature films, and is considered as a foundation of the modern revolution in visual effects and animation.
Prior to joining Pixar, Chris held key Product Management positions at Autodesk and Alias | Wavefront (SGI), where he introduced to market Maya, the world's leading professional CG content creation software.
Film industry applications managed by Chris have been awarded two Academy Awards for technological innovation and he is credited in 11 feature films, including Up, Brave and Inside Out.
Chris is currently Senior Director for Product Management at HOVER Inc, a San Francisco based company that is developing a disruptive new 3D visualisation technology for homeowners everywhere.