Brianna - Environmental Health
Brianna wanted a career where she would be doing something different every day, that allowed her to work with people and make a difference. She chose environmental health and studied her Master of Science at Frenchay Campus.
Why environmental health?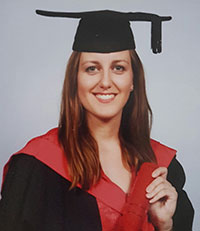 After completing my undergraduate degree in Human Nutrition at the University of Nottingham, I worked at Croydon University Hospital as a Dietetic Assistant. I came to an open day at UWE Bristol because they offered an MSc in Environmental Health, which is accredited by the Chartered Institute of Environmental Health (CIEH). The scope and variety of areas that environmental health covers really appealed to me, along with the fact that I'd get to work with people every day and make a real difference.
Always learning and developing
The course was intensive, and varied. I took part in field trips, lectures, group work sessions and discussions and attended lectures from guest speakers. There was a big focus on real-world practice - I was always learning new skills and developing knowledge so I was ready for the workplace.
My tutors gave me plenty of time and support whenever I felt I needed it – they were approachable and knowledgeable in their field. They're all experienced practitioners themselves, so I knew that the theory and the practice I was learning would be applicable to my career.
Whilst studying, I did a three month internship with the CIEH Northern Ireland Assembly, and my dissertation was based on work I did whilst I was there. The internship was a great opportunity to engage with and understand the work that the professional body of environmental health is involved in every day. This included providing information and policy advice to local and national governments and meetings with environmental and public health professionals to campaign for and to promote each other's work.
A career focussed course
Since graduating in 2016, I've worked as a Graduate Intern Environmental Health Officer at Bath and North East Somerset Council where I completed my Portfolio of Professional Practice (PPP). A placement in a local authority was a great place to try out the different areas of environmental health and helped me to decide what area I'd like to work in.
I'm now the Senior Neighbourhood Enforcement Officer at Bristol City Council. The Neighbourhood Enforcement Team is responsible for investigation and enforcement of issues around; pollution control, street scene, animal health, licensing and highways – it comes with its own challenges but is a very interesting and varied role.