Bhavin Vaja - Mathematics
The excellent teaching and peer support Bhavin received at UWE Bristol during his BSc(Hons) Mathematics course have given him the foundation for a rewarding career.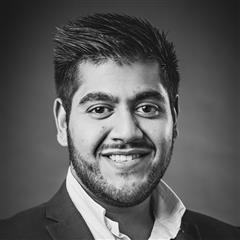 "If I had said I was going to do a mathematics degree at school, nobody would have believed me. But I knew the path I wanted to follow and the Mathematics Team at UWE Bristol helped me to get there. Obtaining my degree in 2015 was one of the proudest and most rewarding moments of my life.
"I found the course content challenging at times, but staff were always there to help, advise, and guide me throughout. I learned a lot from them and I couldn't fault them in any way.
"Studying mathematics allowed me to develop key analytical skills which have proved invaluable to my job. I'm able to identify, dissect and solve problems, and I'm more reflective in the way I think through the challenges I face. I'm a far more efficient worker as I have the ability to think outside the box.
"The other thing that helped to develop my understanding was peer-to-peer learning, particularly for research sessions. Exam periods can be stressful, but we worked well as a group, and being able to share our different areas of knowledge helped greatly.
"I now work for one of the biggest IT hardware distributors in Europe as a HP claims analyst, in charge of analysing sales transactions from raw data. I also recently took my Chartered Financial Analyst exam. It's an intense six-hour exam, but because I'd already studied some of the content at UWE Bristol, I was able to focus my revision on more challenging areas.
"My course gave me the foundations to the real world. It's been tough at times, but being able to show employers I have the right skill set and prior knowledge has differentiated me from the competition and enhanced my prospects and my career."