Austin Hill - MSc Biomedical Science
A good reputation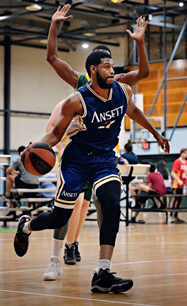 "Bristol is a good city. There is a professional team affiliated to UWE Bristol and had a good reputation for the course I was looking at.
"I did my Masters in Biomedical Science (Clinical Biochemistry). I have my Bachelors in Biology so my science background compelled me to continue with that.
"The city is nice, nightlife is lively and there is always something to do. The shopping is pretty decent also. I met some great people and made new lifelong friends, so for me it was one of life's best experiences so far.
I got a lot of support
"Studying at UWE Bristol was great. In my experience I received a lot of support from my advisors and programme leader.
"As far as basketball, the practices and training sessions were great. The players from the UWE Jets formed one of the closest-knit teams I have ever been part of."
"Studying, living and playing at UWE Bristol is definitely a great opportunity and will be a great experience.
"After graduating, I weighed up my options and decided to continue to pursue basketball for a few more years before focussing on my career after sport. I was fortunate enough to land a professional basketball contract in Australia and that's where I've been for the last couple of years."