Anna – Geography and Environmental Management
"I studied a wide range of subjects and was then able to specialise in what interested me most, which was great.
"I was keen to learn more about nature conservation and river and coastal processes, and the course ticked all the boxes. The lecturers were very knowledgeable and passionate about their subjects, which fuelled my interest even more.
My course really prepared me for the real world. I got my first job offer with Worcestershire Wildlife Trust as a Conservation Assistant before I'd even left university. I'm sure the skills I gained in the nature conservation modules helped me secure the role.
"This was a great first job where I got involved in everything from managing volunteers to hands-on practical conservation work.

"While I loved this job, I realised that I wanted to get into marine conservation, so when an opportunity came up I jumped at the chance. I spent a summer volunteering in the Isle of Man for the Manx Wildlife Trust, Manx Whale and Dolphin Watch and the Manx Basking Shark Watch.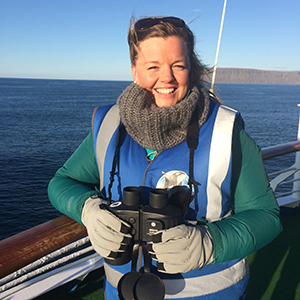 "This paid off as it led me to Cumbria Wildlife Trust where I worked as a Trainee Marine and Coastal Conservation Officer. This gave me experience in community engagement and surveying in a marine environment, which led me to my position as Wildlife Officer with ORCA – one of the UK's leading whale and dolphin conservation charities. This was a great opportunity where I lived and worked on board a passenger ferry sailing across the North Sea and running a wildlife centre.
"This experience led me to my dream job - an Education Coordinator at ORCA headquarters in Portsmouth. I look after community outreach work delivering workshops about whales and dolphins, manage a team of Wildlife Officers, run courses and act as a wildlife guide and conservationist.
"I'm so pleased I studied at UWE Bristol. I've no doubt that my degree gave me the skills and confidence to achieve my goals and find a job I absolutely love. It's got me exactly where I wanted to be."