Andreas - Wildlife Ecology and Conservation Science
The interview was conducted for 'Science Matters', a regular publication produced by UWE Bristol's Science Communication Unit.
South African escapades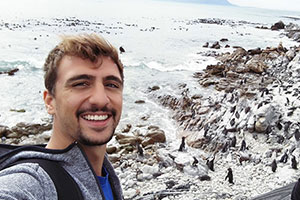 by Siobhan Fairgreaves, MSc Science Communication
Tracking down a rewarding volunteer placement is hard work. Nobody knows this better than Andreas Ioannides. Despite being on the brink of giving up in May 2016, Andreas secured the opportunity of a lifetime and now spends his days assisting researchers and conducting species surveys in South Africa.
"I must have emailed like 40 organisations at least, such as universities and NGOs", says Andreas. "I literally spoke to everyone that I could find. No one wanted to take me on".
Perseverance pays off
Naturally, he found it frustrating to receive so many setbacks and almost gave up all dreams of volunteering abroad. His last ditch effort was to reach out to Dr David Bird, a well-travelled former lecturer at the University, in the hope he might have any useful contacts.
Finally Andreas had struck gold. With the exchange of just a few brief emails, he was put in touch with Professor Les Underhill who was eager to help. Professor Underhill is Director of the Animal Demography Unit at the University of Cape Town in South Africa. Having previously supervised a variety of students with a range of research interests, he was able to offer Andreas a flexible working environment.
Surveying reptiles
"I'm quite lucky that Professor Les lets me tailor everything to how I want it to be," says Andreas. "He's going out of his way to make sure I'm doing things I enjoy. For example, I want to specialise in reptiles, so he's trying to get me to do my own little surveys on reptiles."
In his latest survey, Andreas uncovered the first Cape Dwarf Chameleon spotted on Robben Island, near Cape Town, since 2006. And it is clear there are exciting prospects for the rest of the placement.
It may seem that Andreas has it all worked out now but he hasn't forgotten how hard it can be and he is keen to share his experiences with other students. Throughout his placement he has recorded videos to showcase his work for his YouTube channel. These fun clips are a great way to find out more about what Andreas does and he hopes they will inspire others to take the risk and give volunteering abroad a go.
Take a look at Andreas' YouTube films.