Ali - Psychology
Studied: BSc(Hons) Psychology.
After leaving school, Ali worked in catering, as a receptionist and with early years pre-school, before deciding that she wanted to qualify as a teacher. She started out on an Access course at Stroud College.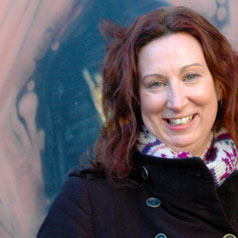 "I was terrified going back into full-time education but really enjoyed studying. Despite going back to qualify as a teacher, I found that I also enjoyed psychology. I talked to lots of people and it seemed like this would open more doors for me. So when I came to choose a university, I looked into what both degrees could offer.
"I checked out a few universities but was really impressed with the set-up at UWE Bristol, especially the Psychology and teaching departments. It instantly felt like the right place for me.
"Going to university as a mature student was a bit daunting at first. Fortunately, my tutors were really supportive. And the younger students are really accepting – I've been invited to several 21st birthdays!"
Study - life balance
Ali manages to juggle full-time study with helping run the family business and looking after her daughter (16) and son (15).
"It's been a rollercoaster ride over the last year. My husband had a head injury so I've had to fit study around hospital appointments. Fortunately, my student advisor has been there, offering support and advice."
Psychology in the community
Despite these challenges, Ali worked hard to maintain her grades, and chose a final year project while on work placement for her 'Psychology in the Community' module.
"I'm interested in studying the most effective ways to praise children in learning environments. The school I was working at agreed to support my research.
"I've not yet applied to go into teaching - I'm keeping my options open. Fortunately, there are lots of areas to work in with a Psychology degree. So I'm researching opportunities in clinical as well as educational environments."