Vikki Heywood CBE - 05 October 2016
Vikki Heywood CBE, Chairman, The Royal Society of Arts, delivered a lecture entitled "Enriching Britain - through our creativity and heritage".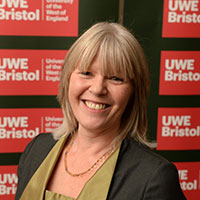 Vikki Heywood spoke eloquently on the strengths of our creative nation in the new world order post Brexit asking "what is our UK culture now we are leaving the European Union. Has it altered and how might this new world order influence our creativity and our arts?"
Vikki ended her lecture on a positive note suggesting that perhaps Brexit has given us an opportunity -"a new energy to demonstrate the vitality, the effervescence of what we do – how we contribute to society."
Media and coverage
Podcast
Listen to the talk in full on Soundcloud. (Please note that Soundcloud does not support IE9. Users may wish to try Chrome, Firefox, or a recent version of IE).
Pictures and further coverage of the event can be found on the South West Business website.
Exclusive pre-address interview
Watch Vikki Heywood's pre-address interview below:
Photos
Photos from this event and previous Bristol Distinguished Addresses can be viewed in our BDAS Flickr album.
Discuss this event on Twitter using the hashtag #BristolLectures.