Tony Cocker, E.ON UK - 28 October 2014
Dr Tony Cocker became Chief Executive of E.ON UK in October 2011.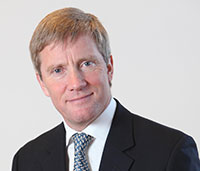 He was previously Chief Executive Officer and Chairman of the Board of Management of Düsseldorf-based E.ON Energy Trading from 2008 to September 2011.
This address covers the importance of trust to businesses and their customers – why getting it right really matters. In his lecture Dr Cocker provides his perspective on trust and business and what E.ON has done to rebuild trust with its customers.
Media and coverage
Listen to the talk in full on Soundcloud. (Please note that Soundcloud does not support IE9. Users may wish to try Chrome, Firefox, or a recent version of IE).
Pictures and additional coverage from this event can be found at South West Business.
Watch Tony's pre-address interview below:
Discuss this event on Twitter using the hashtag #BristolLectures.