Stephen Varley, EY - 23 October 2014
Stephen Varley is Chairman and Regional Managing Partner UK and Ireland at EY, the third largest professional services firm in the world and one of the 'Big Four' auditing firms.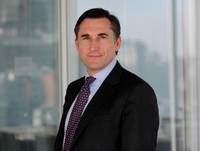 Stephen has over 22 years of client and consulting business experience in various sectors, and for this second Bristol Distinguished Address lecture, he will give us an insight into how he has carved out his career, his personal road to leadership, and what his experiences have taught him about what it takes to be a good leader.
Media and coverage
Listen to the talk in full on Soundcloud. (Please note that Soundcloud does not support IE9. Users may wish to try Chrome, Firefox, or a recent version of IE).
Pictures and further coverage of the event can be found at the South West Business site.
Watch Stephen Varley's pre-address interview below:
Discuss this event on Twitter using the hashtag #BristolLectures.